Recently I was re-introduced to the server software and program called Jitsi-Meet. It's a zoom alternative that you can run on your own cloud server and provide a private and secure video conferencing experience without paying by the meeting host, or for time or anything. Just pay for the running VPS (Virtual Private Server). It can be run on small instances on Amazon Lightsail or even more easily on server providers like VULTR.
If you're interested in seeing Jitsi work, just try out the meeting place at https://meet.jit.si/ it's totally free to use and you can test out if it will work for you. This looks like mine, except mine is on a custom server and I put my logos in place of the Jitsi logo and changed the wording. It's easily used in the browser and for phones you either use the browser or the app on by Android and IOS.
VULTR is a cloud server provider and they have some ready made software packages that install in just a few clicks. They're very easy to use and I even have an affiliate code here that will get you $100 of credit to check them out. https://www.vultr.com/?ref=8671968-6G
Using a code like that is how I got started and it's a simple no cost way to try it out and see if you can make a nice running video conferencing server.
A few clicks to install and get up and running in the stock configuration, the server operates easily. But then as is my custom I began modifying it. I put the logos of my choosing on the home page and also custom wording of the statements about using it for teams and meetings.
Then I made a lobby area for new people who access it.
I put it on a custom URL subdomain of one of mine as well. It just chugs along.
If you'd like help with customization, first you need install it and make it work, then after that you can fix it up to make it look more custom. I figured out the places to modify including below: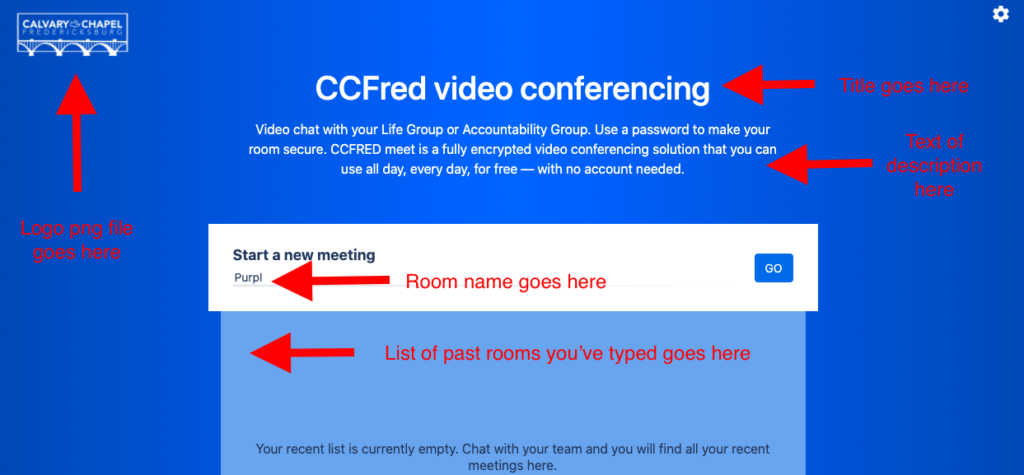 /usr/share/jitsi-meet/images/watermark.png– This is to put you're own logo on the page, as seen in the top left of the image above.
/usr/share/jitsi-meet/libs/app.bundle.min.js– This is where you can modify what's said on the front page in writing. This is like the top middle section of the image above.
When you wish to make a room to meet in, you type a room name of your choice in the center of the page. It has random words that scroll by to form room names that you can choose at random just by hitting the
/usr/share/jitsi-meet/interface_config.js – This is where you can delete buttons you don't want for options and also where you can change it to say something custom when people enter the meeting, instead of "fellow Jitster".
If you need any help with any of it, just let me know. I'd be happy to help a bit.